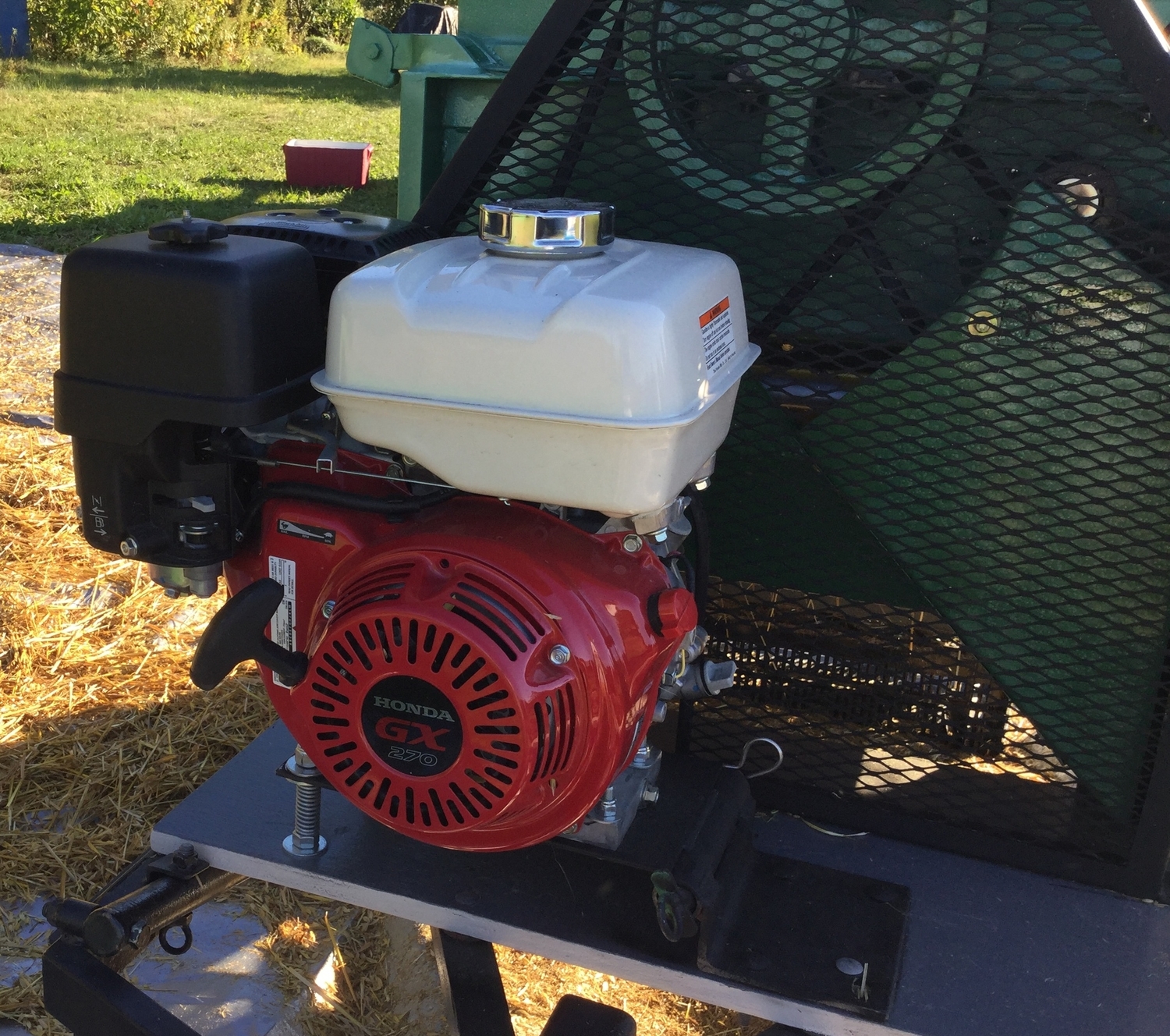 Multi-Crop Thresher
Bridges the gap between manual and combine-scale threshing
Separates & cleans crops including GRAINS of all sizes & small to medium BEANS
Powered by Honda engine w/ 3 year warranty
Rugged, mobile & user-friendly w/ 1-2 operators
Output of 1750 lbs/hr @ feed rate of 55 lbs/m (wheat)
SPECIFICATIONS
Thresher Type
Axial-flow plot thresher
Power
9HP Honda GX270 Engine; variable speed for different crop conditions and varieties
Effectiveness
Results of independent testing of rice threshing by the Multi-Crop Thresher, conducted by the Food & Agriculture Organization (FAO): 0% weed seed and 0.6% crop damage, compared to an average of 6% for combine harvesters tested (2014)
Capacity
1,000+ lbs/hour output
Crops
GRAINS: Barley, Buckwheat, Millet, Oats, Rice, Rye, Wheat (Spring, Winter, Einkorn, Emmer, Spelt, etc.) & more
BEANS: small- to medium-sized
Bridges the gap between manual and combine-scale threshing
Separates & cleans crops including GRAINS of all sizes & small to medium BEANS
Powered by Honda engine w/ 3 year warranty
Rugged, mobile & user-friendly w/ 1-2 operators
Output of 1750 lbs/hr @ feed rate of 55 lbs/m (wheat)
SPECIFICATIONS
Thresher Type
Axial-flow plot thresher
Power
9HP Honda GX270 Engine; variable speed for different crop conditions and varieties
Effectiveness
Results of independent testing of rice threshing by the Multi-Crop Thresher, conducted by the Food & Agriculture Organization (FAO): 0% weed seed and 0.6% crop damage, compared to an average of 6% for combine harvesters tested (2014)
Capacity
1,000+ lbs/hour output
Crops
GRAINS: Barley, Buckwheat, Millet, Oats, Rice, Rye, Wheat (Spring, Winter, Einkorn, Emmer, Spelt, etc.) & more
BEANS: small- to medium-sized
PRODUCT INFORMATION CONT.
Fuel Use
1/4 gallon per hour

Drum Speed
250-800 rpm

Wheels
Rear: 16" pneumatic tires
Front: 6" solid wheel on swing-back jackstand
Standard Features
Ball hitch
Adjustable aspirator/blower
Foldable feed apron with angled side walls
Spare rear wheel assembly
Dimensions
Length: 100 inches
Width closed: 48 inches
Width open: 72 inches
Height closed: 71 inches
Height open: 75 inches
Weight
615 lbs
Warranties
Honda engine: 3-year limited warranty
Thresher body:
- 3-year limited warranty for 1 user
- 2-year limited warranty for 2-3 users
- 1-year limited warranty for 4+ users
- extended warranties available
Contact us for additional warranty information
Due to its mobility and durability, the Multi-Crop Thresher is a good fit for shared use, including equipment pools, rental businesses and joint ownership arrangements.
Contact us about shared use equipment and the impact of right-sized processing options on community-scale dry crop farming.